Welcome to Uxbridge Sports Club
Make money when you ride share to the club with Sparrow
Rugby World Cup 2019 – Quarter finals
England, Wales and Ireland have reached the quarterfinals. The games on Saturday 19 October will be shown at The Club.
Come and watch the England match and enjoy a full English Breakfast (vegetarian option available) and a pint of beer or a glass of wine for just £8.95. Starts at 07:30/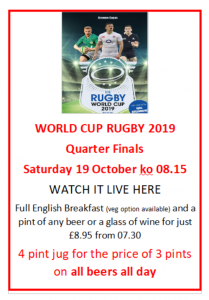 Fixtures for the weekend:
Saturday 19 October:
England vs Australia 08:15
New Zealand vs Ireland 11:15
|Sunday 20 October


Wales vs 

France 08:15


Japan vs 

South Africa 11:15
Fireworks Night – Friday 8 November
The Annual Fireworks night is on FRIDAY 8 NOVEMBER at 7.30pm
There will be a late bar.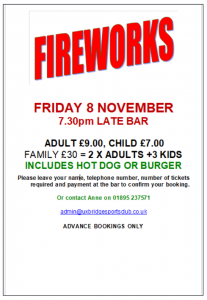 Ticket prices:
ADULT £9.00
CHILD £7.00
FAMILY £30 = 2 X ADULTS +3 KIDS
Price includes hot dog or burger.
Please leave your name, telephone number, number of tickets required and payment at the bar to confirm your booking.
Or contact Anne on 01895 237571
admin@uxbridgesportsclub.co.uk
ADVANCE BOOKINGS ONLY
Sport on your doorstep
If you're interested in taking up a new sport, we have bowls, cricket, rugby, squash and tennis all played here and newcomers are very welcome.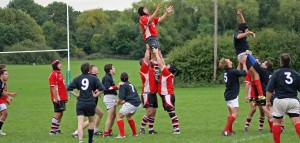 Uxbridge RFC in action
If you fancy something slightly less energetic, why not come down for a meal and watch your favourite team? We show all the major football, rugby and cricket here. Membership not required, although all members, including social members enjoy a 10% discount on drinks.
There are two bars at Uxbridge Sports Club and both are ideal for parties – Contact Anne O'Dea for more details.