News and events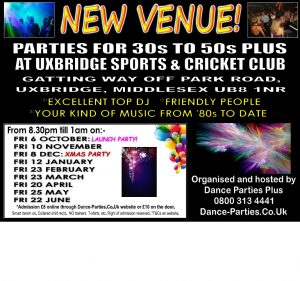 Dance Parties Plus are coming to Uxbridge.
Starting on Friday 6 October, there's a party for over 30s to 50 plus at Uxbridge Sports Club, playing everything from 80s music to up to date sounds.
Doors open at 8.30pm and the party goes on until 1am.
Tickets cost £8 online or £10 on the door.
***Special offer for Members: Bring 1 newcomer and you'll get in FREE!***
---
New Years Eve 2016 – shows how fantastic the club can look when it's got its party frock on…