Comedy Night Friday 27 March 2020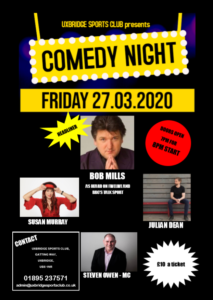 Uxbridge Sports Club is hosting a Comedy Night on Friday 27 March. With Steven Owen as the MC, Susan Murray and Julian Dean will entertain you and the headline act is Bob Mills.
Tickets only cost £10 each and are available from the bar.
Call 01895 237571 or email admin@uxbridgesportsclub.co.uk for more info.